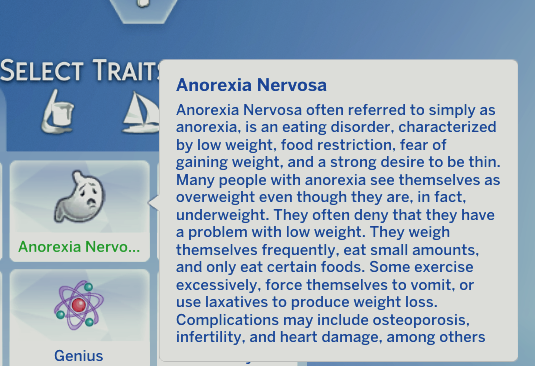 Thank you to LeRoideTrout for helping me figure out the more troublesome tuning errors and to everyone who has encouraged us to keep making mods.
⋆Available for: Teens, Young Adults, Adults, and Elders
⋆Ask for Reassurance From Someone
⋆Call someone on the phone
⋆Share insecurities with someone
⋆Tell a self-depreciating joke
⋆Teen mood swing to loud music
⋆Hunger need decay rate changed to 1.5x of that of a regular sim
⋆Fitness skill increase rate changed to 1x that of a regular sim
⋆Wellness skill increase rate changed to 2x that of a regular skill
⋆Admit to Having Anorexia, Explain Eating Disorder, Joke About Anorexia, Lie About Eating Disorder, Deflect Question About Eating, Claim to Have Eaten Lately, I'm Fine Really
This does not show all of the buffs but just some of them. Upon loading the game teen sims will have about two to three buffs right away. Buffs for teen sims are also more intense than those for young adults because as teens grow many different factors are at play all at once.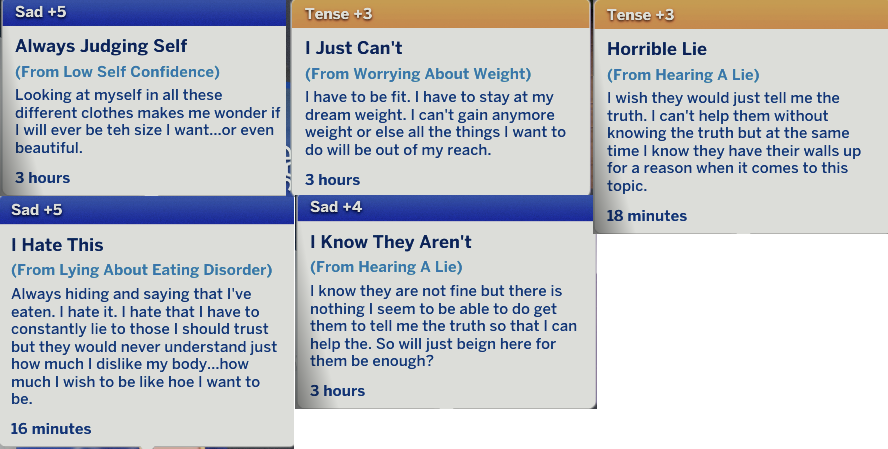 ⋆11/16/20 A complete Overhaul: 6 new buffs, new socials, new needs changes
⋆3/6/21: Lowered the frequency of the buffs on teens, "Scars to Your Beautiful" moodlet will now appear after Woohoo as well as when in a hot tub and doing yoga​​​​​​​
❝Download & Instructions❞
1. Click the Download button below.
2. Extract the .zip file.
3. Move the .package and .ts4script files to your Mods folder (located in Documents\Electronic Arts\The Sims 4).

♦ Keep them in the same folder, no more than ONE sub-folder deep inside your Mods folder.
♦ Do NOT rename either of them.
♦ Make sure you have Enable CC/Mods and Script Mods Allowed enabled in your Game Options.