⋆Available for: Teens, Young Adults, Adults, and Elders
⋆Charisma, Mischief, Writing will be permanently set to 1.5 decrease.
⋆Comedy, Video Gaming, Programming, Rocket Science will be permanently set to 1.25 increase
⋆All musical skills will be permanently set to 1.25.
⋆Autonomy for Dazed, Uncomfortable, Stressed, Angry, Loner
⋆Social need will be permanently set to 1.5
⋆All your Sim's friendships and romances will permanently be set to 1.5 in both directions meaning all your Sim's relationships will gain more points from positive interactions and will lose more points from negative interactions. (Possible conflict with Slower Relationship Procession. If you want both I suggest you put SRP in your Overrides folder.)​​​​​​​
⋆Share My Trauma(s), Confess to Being Afraid, Ask for Reassurance, Share Worries, Explain PTSD and cPTSD
Just a sneak peek at a few of them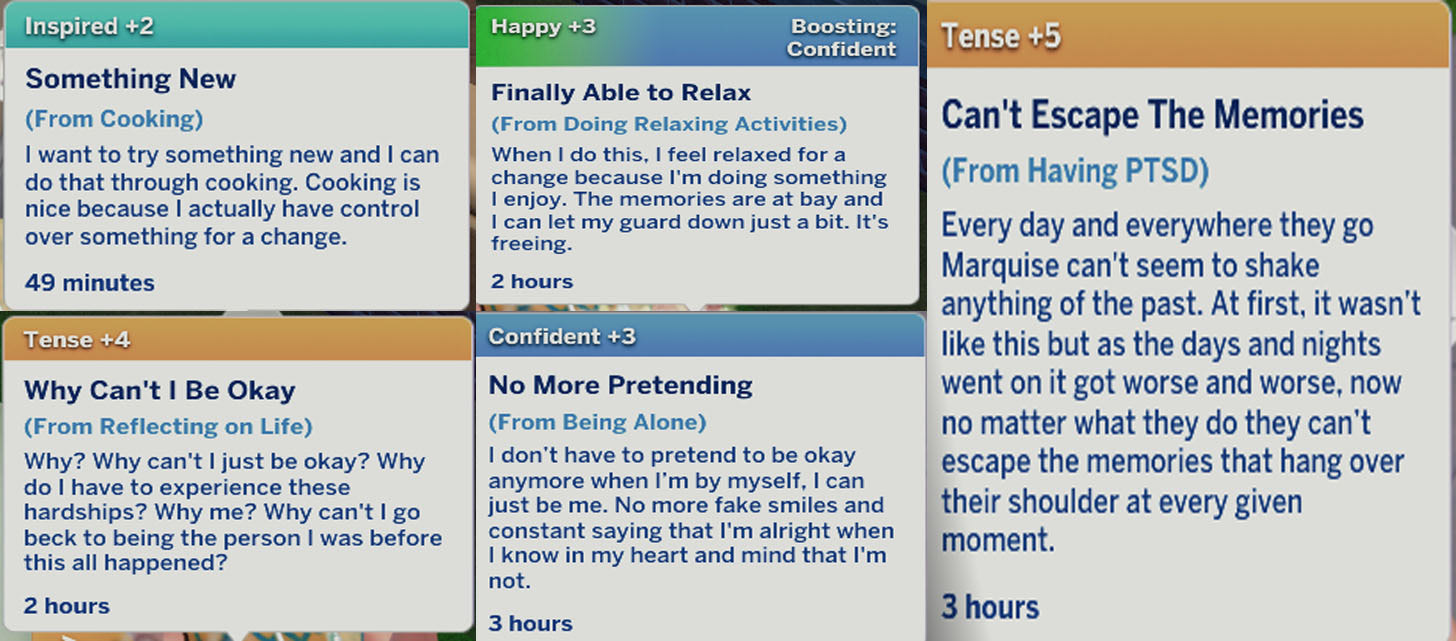 ⋆Unsafe buff that happens when around/socializing with sims you have low friendship with
⋆Not Alone buff that appears when talking with someone else with the trait
⋆11/11/20 Fixed the Sim Profile glitch for this trait
⋆12/3/20 Added Portuguese​​​​​​​ translation by qlaqercoixsa  on MTS
⋆3/17/21 Added Simplified Chinese translation by MonicaJ
⋆Share Worries and Ask for Reassurance socials not giving their buffs. (Still working on it)
❝Download & Instructions❞
1. Click the Download button below.
2. Extract the .zip file.
3. Move the .package and .ts4script files to your Mods folder (located in Documents\Electronic Arts\The Sims 4).

♦ Keep them in the same folder, no more than ONE sub-folder deep inside your Mods folder.
♦ Do NOT rename either of them.
♦ Make sure you have Enable CC/Mods and Script Mods Allowed enabled in your Game Options.